Photos & Text by Ann Abernathy
Gardeners by the Bay (GBTB) held their spring plant sale fund raiser on Wednesday, April 5th, 2017, in the south parking lot of the Clear Lake United Methodist Church in Clear Lake at 16335 El Camino Real, at the front portico and small parking lot facing Seafoam Drive. It was a cool and windy morning. The sale began at 9:30am and lasted until noon.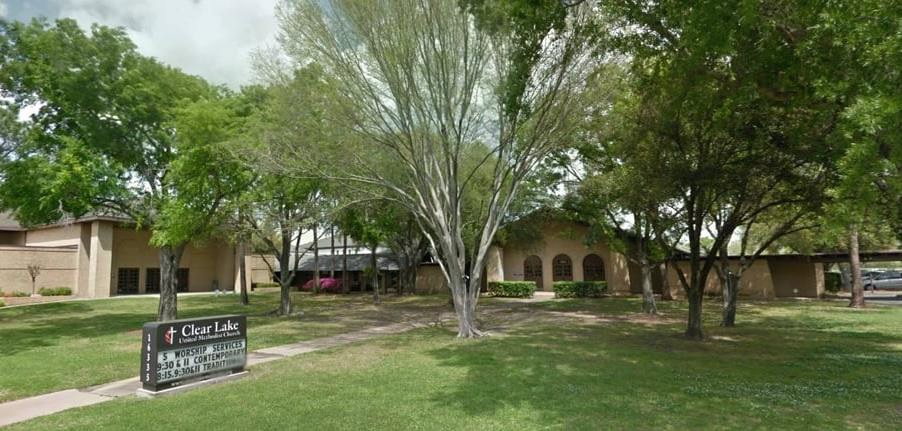 A propagation party was held on February 8, at the gardens of Heather Amuny. The newly potted plants are then taken home and looked after by members until the club plant sale. Members bring plants from their own gardens for the sale or purchase them. Nancy Mason purchases her donated plants since she is unable to dig in her garden. It is work to dig up plants. Plants were to be at the sale by 7 AM so that they could be priced and put on display.
Members who volunteered and their duties:
Pricers: Leslie Wong, Donna Jerz, Becky Kadel, Bettye Solcher, Erica Stepchinski, and Madeleine Rogers.
Unloaders: Erica Stepchinski, Madeleine Rogers, Nancy Beeson, Judith Jackson , Ann Lyon, Edward Cunningham, Sara Nielsen, Richard Nguyen, Priss Fletcher, Diane Lavelle, Virginia Cross, Joyce Roberts, Bridgette Crull, Laura Estupinian, Regina Flaherty, Becky Kadel, Frank Resch, Brenda Lancaster, Bianca Spier, and Marjorie McConnico.
Invoicers: Erica Stepchinsky, Alice Steele, Ann Lyon, Edward Cunningham, Sara Nielsen, Leslie Wong, Priss Fletcher, Sulynn Colvin, Cheryl Brueggeman, Regina Flaherty, and Sandy McBride.
Cashiers: Madeleine Rogers, Frank Resch, and Mary Smith.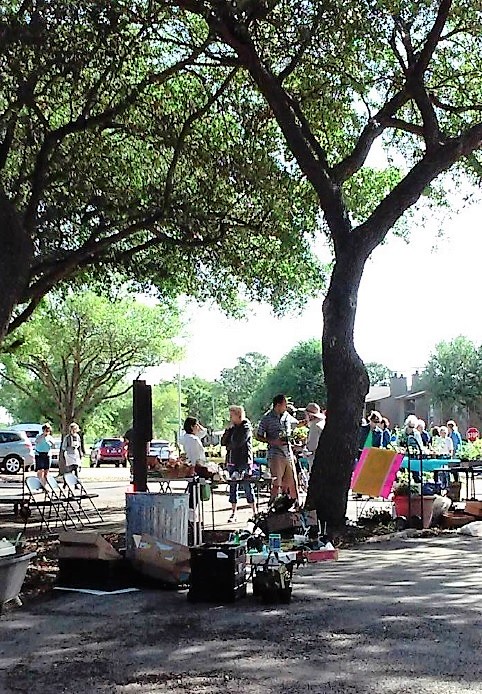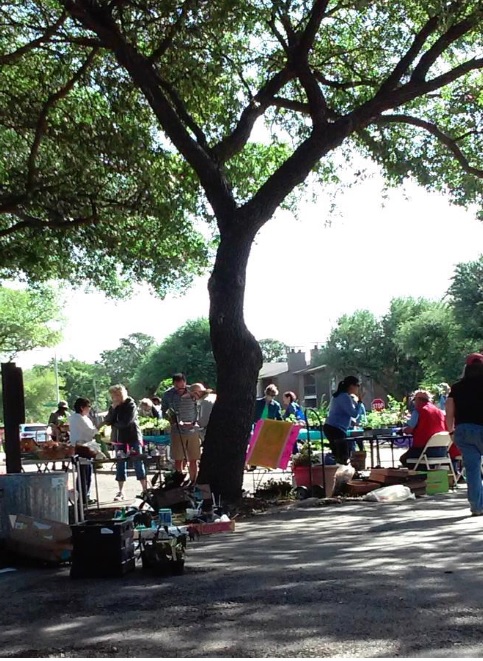 A view of the sales tables and plants from refreshment area. Heather Amuny was manning that table.
Found out Heather is from Memphis. She enjoys pimento cheese sandwiches. Mary Demeny made them including the bread. Heard comments and had to try one. I grew up on them. Bettye Solcher was on the ground pricing plants when I got there. Bettye is a Galveston County Master Gardener.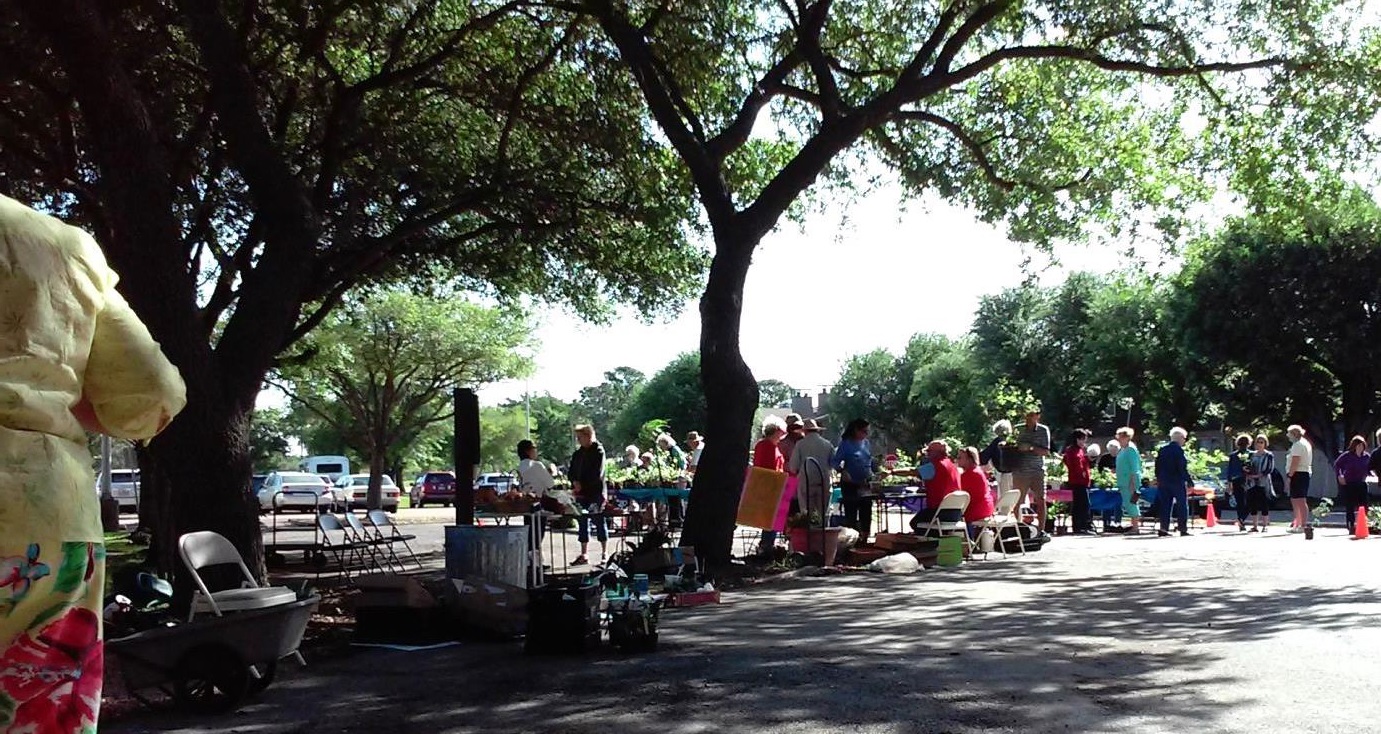 Madeleine "Mad" Rogers and Frank Resch were cashiers. This was the first year of having the sale in the parking lot of the Clear Lake United Methodist Church on El Camino Real. That's Becky Kadel on left.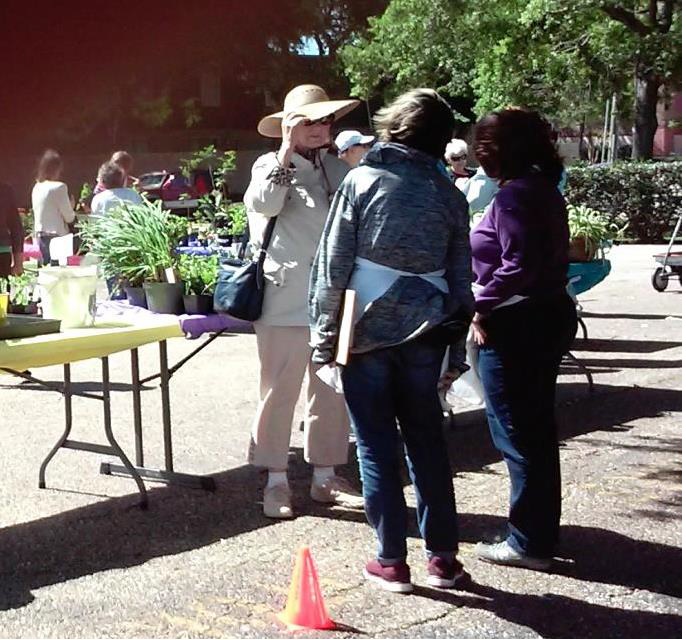 Laura Estupinian helped members carry their plants from their vehicles to the tables. Saw Erica Stepchinski helping Mary Smith's husband return the church tables into the church.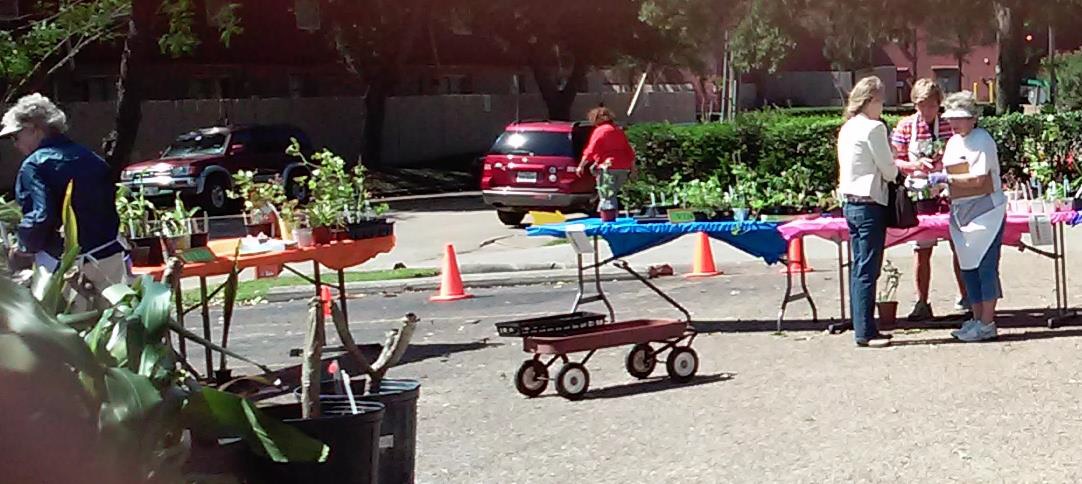 Prices were reduced by half around 11am. Many club members made their purchases then. Cheryl Brueggeman and Leslie Wong were all around helpers. Marjorie McConnico made nice signs for her plants. Heard Roemehl Dewey describe characteristics of plants to potential customers.
Consolidating plants and taking down tables. Mary Smith brought several tables and chairs to help with the event. She needed both vehicles to take them home. Heard someone say the setup for the sale started at 6:30am. Saw Mary bringing in our sale signs from the street.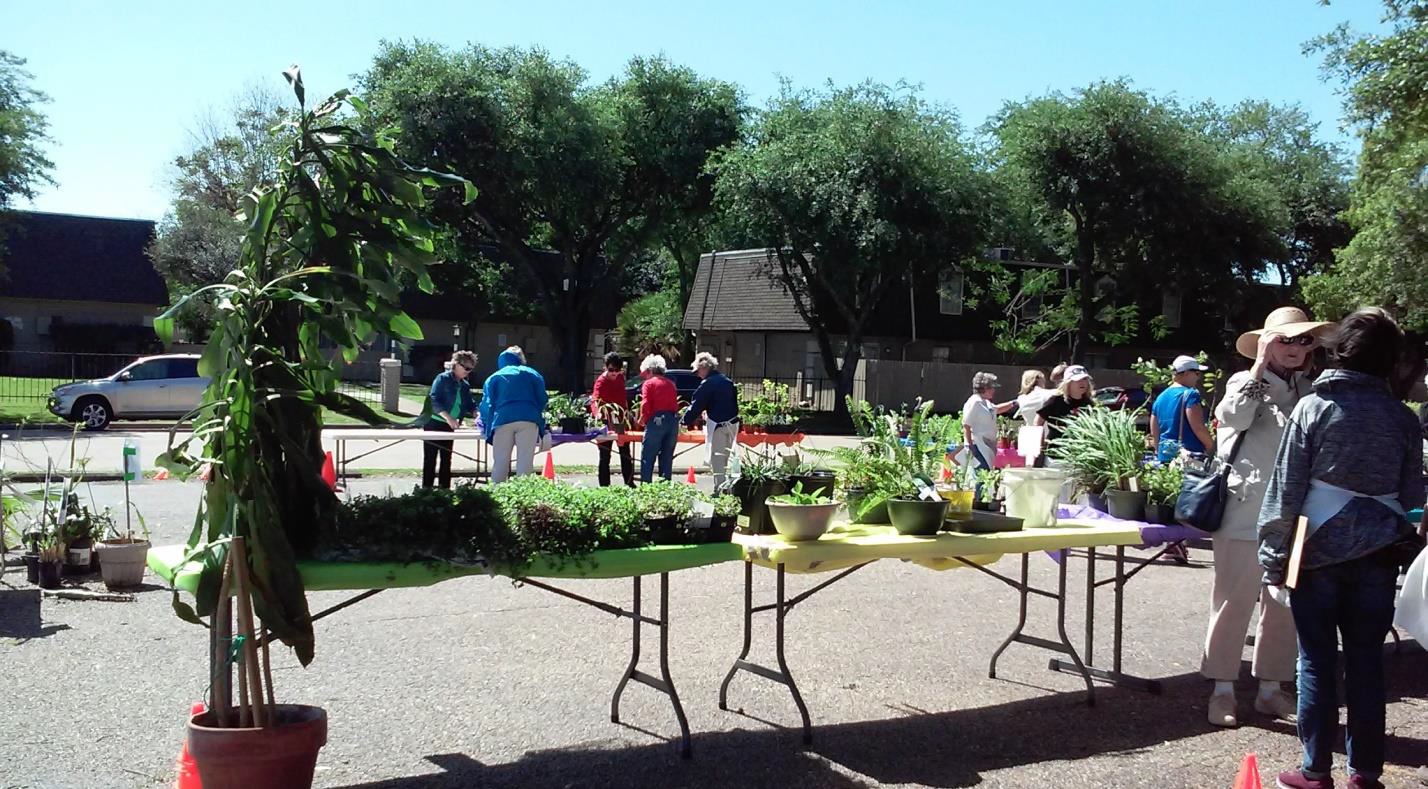 We had a few customers just before closing. Leftover plants were donated to a Friendswood Garden organization. Their two cars were very loaded with plants. The day was sunny but very breezy. I am a fairly new member and only mentioned the people I knew. I think most enjoyed the morning and hopefully we made enough to fund the church rental for next year. Kay Bergman approached me for my 2017/2018 dues which I had not paid. She said the club has to pay $8 dues for each member in April.